---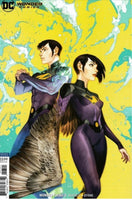 Issue # 3  Variant NM 2019 new
Exiled from their homeworld and still trying to adjust to life on Earth as normal teenage high school students and interns for the Justice League, Zan and Jayna find themselves attacked in their own home by the League of Annoyance. Now separated and unable to use their amazing powers of transformation, the twins find themselves forced to rely on Zan's new pet monkey Gleek for help-but does the plucky purple primate even like his new owner enough to give a monkey's butt about these young heroes?
Variant cover by Dan Mora. 
All comics come with a board & bag.