---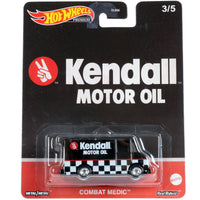 Hot Wheels Pop Culture 2023 Mix 3 Combat Medic Vehicle 
:

The Hot Wheels Pop Culture vehicle assortment features 1:64 scale models that are a must-have for adult collectors and car enthusiasts around the world. Each vehicle features the exceptional graphics and details that are fundamental to the Hot Wheels brand. The iconic pop culture themes are also an awesome introduction for those just venturing into the Hot Wheels universe and collectors who relish the incredible decos on new and classic cars. Ages 3 and up.

The Hot Wheels Pop Culture 2023 Mix 3   individually packaged vehicles  

1x Combat Medic (UPC:194735100675)

 Age 3 and up.