---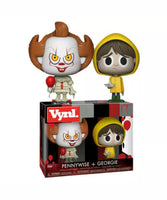 IT (2017) - Pennywise & Georgie Vynl. Vinyl Figure 2-Pack
"BEEP BEEP Richie! They ALL float down here. When you're down here with us, you'll float too!"
Stephen King's acclaimed 1986 novel terrorised a whole new generation of audiences this year in New Line Cinema's 'IT'!
To celebrate, Funko have released this incredible Pennywise & Georgie Vynl. Vinyl Figure 2-Pack!
The Vynl 2-Pack features the shape shifting being in all his terrifying glory, along with poor little Georgie who simply just wanted his boat back!