---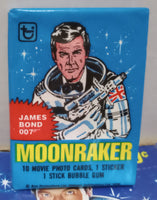 Each sealed pack includes 10 Movie Photo Cards, 1 sticker & 1 stick of old gum.
Moonraker might not be the most critically lauded James Bond film, but it certainly had its share of commercial tie-ins. This includes the first mainstream set of trading cards since Roger Moore took over the reigns of the lead role. 1979 Topps Moonraker trading cards showcase the film with 99 cards and 22 stickers.
The base set stands out with bold blue borders. An inner yellow frame holds in an action shot. Understandably, most center on James Bond, however villains like Drax, Jaws and Chang all appear as well. At the bottom, the frame curves up to create a space for the card's caption. Backs are blue. Features include an illustration of James Bond in his space suit and a rocket. A short write-up is in a yellow box.
Stickers are die-cut like other similar inserts from the era. The first five are strictly character portraits. The remaining 17 have the Moonraker title added to go with an action shot from the film. Stickers, which fall one per pack, have blank backs.